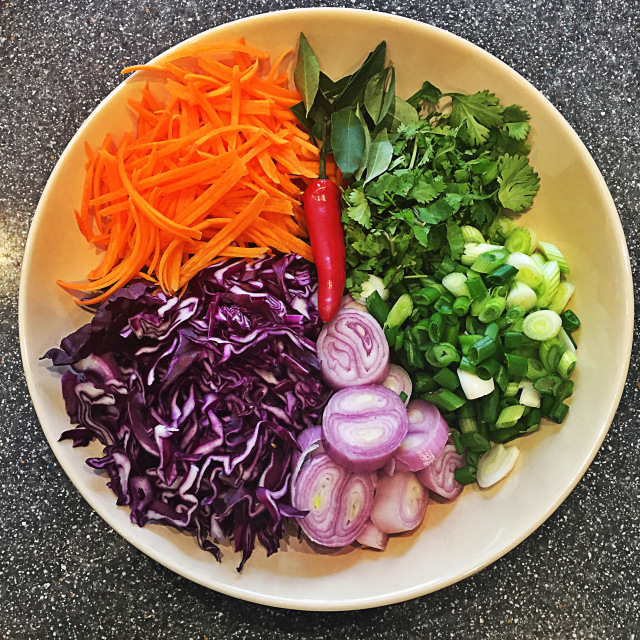 Shakshuka, a spicy Middle Eastern baked egg dish has become one of the trendiest brunch dishes in restaurants the world over, and I predict Kottu Roti is going to be the next big thing (even if I have to single-handedly make this happen!). Kottu Roti is a magical combination of spicy tomatoes, crunchy veg, scrambled eggs and leftover roti or chapati bread. It's vibrant, filling, healthy and uplifting–everything you need in a brunch food (especially with a hangover)!
In a blender, whizz up about half a tin of fresh plum tomatoes, 4 cloves of garlic, a big thumb of ginger and some green or red chillies. Set aside.
Slice up a red onion and fry in some oil in a big wok, cooking down until soft and caramelised. Add some crushed cumin seeds (or just a bit of ground cumin) a splash of soya sauce, and the spicy tomato paste.
Add a few generous handfuls of sliced red cabbage and a couple carrots cut into matchsticks (or shredded or spiralised to your liking). Add some fresh curry leaves if you've got some on hand. Stir well, lower the heat and cook for a few minutes until the veggies soften but retain a good amount of crunch.
Tear up a couple chapati or roti flatbreads (the idea is about using up leftovers in the house. Many Sri Lankan households presumably always have some leftover roti in the kitchen!) Stir the roti in.
In a small bowl, lightly beat a couple eggs and gently fold the eggs in with the veggies and roti until cooked. Season with some salt.
Lastly, tear up some coriander leaves, chop some spring onions and scatter over the kottu roti, and serve up with plenty of fresh lemon or lime wedges.
I served this with a simple chopped cucumber salad with fresh mint and lime juice.